WaterPoint Network 2 (WPN2 app)
This item is not available to purchase online.
Please contact us for Pricing Options,
a Quotation, or Demonstration.
---
---
WaterPoint Network - WPN2
MANAGING ASSETS & WORK IN THE FIELD
WaterPoint Network (WPN2) is a comprehensive utility management system that integrates asset management, leak detection, and work order management in a single iPad app in real time.  Data is securely backed up to WPN2 cloud servers and synced between multiple users and iPads within the utility, ensuring that everyone is operating at all times with the same up-to-date information.
INFRASTRUCTURES
Drinking Water Distribution
Wastewater
Stormwater
Gas Distribution
Electric
Streets
ASSET MANAGEMENT
Asset information is always at your fingertips:
location

manufacturer

model

photos

associated activities

notes
Map location of utility assets:
pipes

hydrants

valves

meters

water sources

manholes

inlets

outlets

pump stations

siphons

weirs

drop structures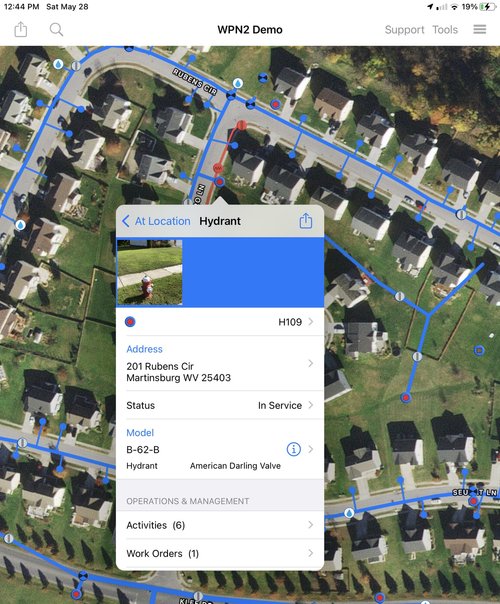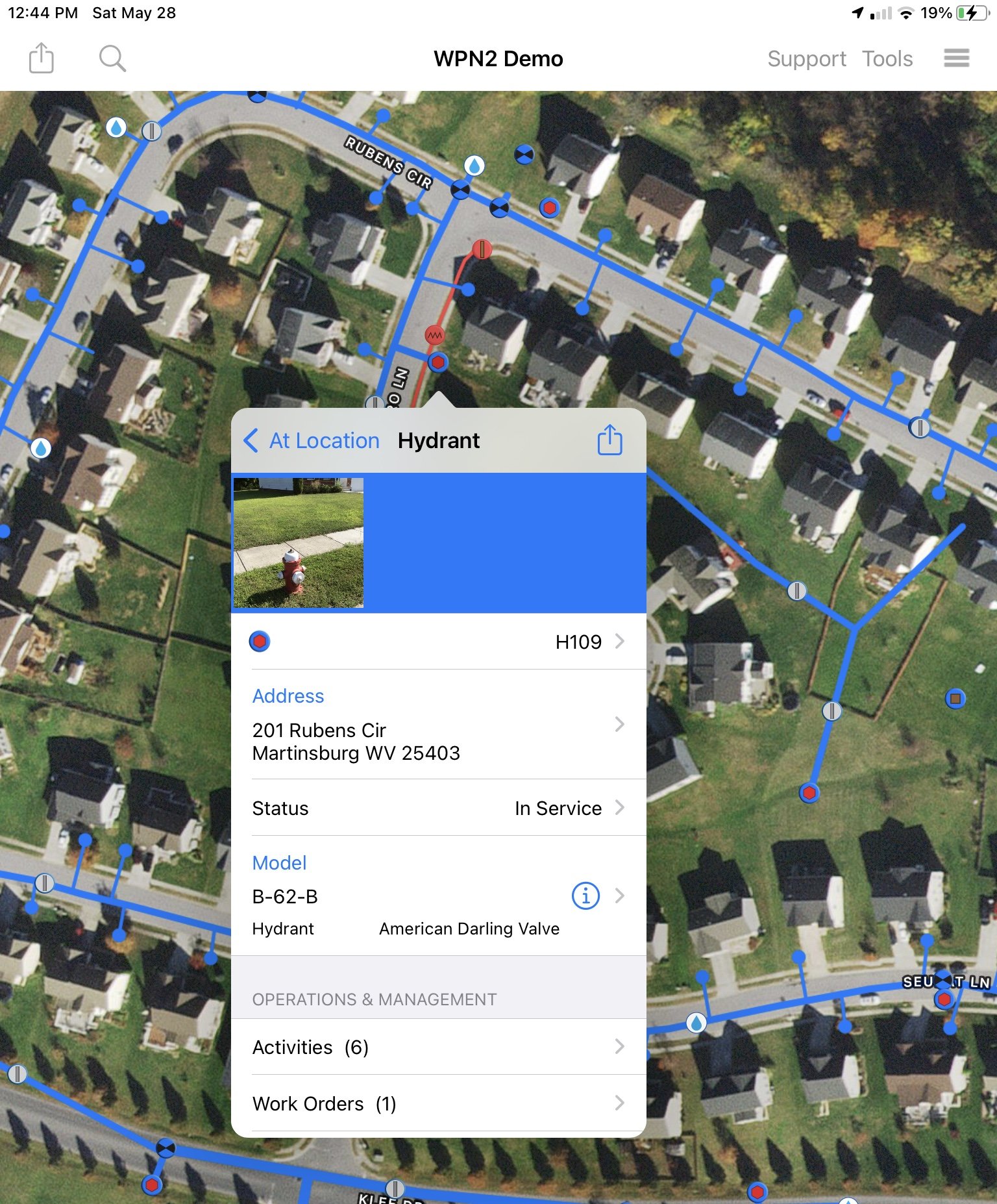 ADDING ASSET & PIPE MAP LOCATIONS
You can create pipes and other assets like hydrants and valves on the WPN map:
"Draw": Tap in the map view with your finger or Apple Pencil to place an asset or sketch out a pipe route

"Track": Place an asset at your location or trace a pipe route by walking or driving

GIS: Importing pipes and assets from an existing GIS system
WPN records the location of assets and pipes using their GPS coordinates, obtained from:
the built-in GNSSS receiver of the iOS device (iPad, iPhone, iPod touch)

A high resolution Bluetooth receiver, such as an SXblue GNSS/RTK module, with an optional external antenna

Converted from older state plane coordinates typically used in GIS data
WORK ORDER MANAGEMENT
WaterPoint Network allows you to record all maintenance activities including:
Installations

Flushing

General repairs

Water quality testing

Leak surveys

Reported leak investigations
Supervisors and managers can send work orders to crews in the field while tracking
Job status

Materials

Costs.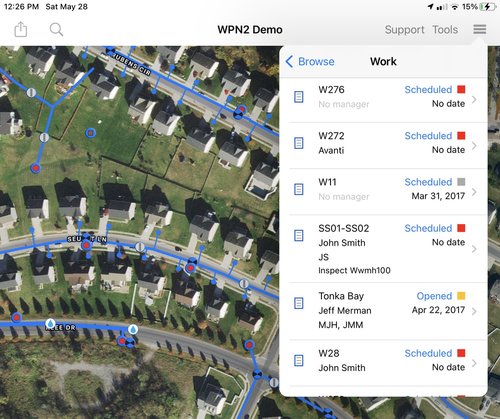 LEAK DETECTION
All WaterPoint leak detection equipment can be used within WaterPoint Network, allowing the utility to
Manage leak surveys
Pinpoint leaks
Save recordings

Share recordings in real-time
WPN2 FAQs
WHO OWNS THE DATA?
The Utility owns its WPN data. The WPN App works independently of the WPN Plan. Data export is always done through the WPN Server (WPN Plan). If the plan is discontinued, the Utility can do a final WPN data export and then continue to use the WPN App indefinitely, including creating new WPN data. However, future exports will become possible if and when the utility resumes its plan membership.
WHERE IS THE DATA STORED?
All data is always stored on the iPad. The WPN Server, in the cloud, stores timestamped copies of WPN data taking advantage of Amazon Web Services for security and data integrity.
HOW IS DATA TRANSFERRED?
The WPN App can exchange data using either Wi-Fi or cellular data. WPN Server is used for synchronization of WPN data among iPads. WPN Server is for frequent backups and, exceptionally if needed, restoration of the utility's WPN data in the event of loss.
CAN DATA IN WPN BE EXPORTED TO THE UTILITY'S CURRENT GIS SYSTEM?
Yes.  Data exports are sent from WPN Server as email attachments and can be used with a variety of Mac and Windows programs, such as Microsoft Excel. Exports from WPN are text files that can be converted by third party Windows programs for import into popular GIS programs. The importing process is specific to the Utility because it depends on the the Utility's GIS data structure. 64seconds can assist the Utility, if desired, as part of our GIS data exchange premium service.
WILL THERE BE FUTURE ENHANCEMENTS TO WPN?
Yes.  WPN App development is ongoing and WPN Plan members are guaranteed future compatibility. WPN supports PLD, 64seconds' leak detector, and will also support future 64seconds equipment.
WHAT REGION DO YOU SERVICE?
Utility Technologies, LLC is the authorized sales agent for Michigan, Ohio, and West Virginia.  We do local on-site training, and local support in addition to the online and phone support provided by 64 Seconds as part of the service agreements.
---
We Also Recommend